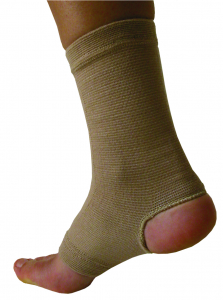 Slip-On Basic Elastic Ankle Support
Single tubular elastic support sock for painful tired ankles and feet.
Size:
Small, Medium, Large, Extra Large
Single tubular elastic support sock for painful tired ankles and feet.
FEATURES & BENEFITS.
General purpose tubular compression support.
Suitable support for simple strains/sprains.
Great all day comfort.
Beige colour blends well with lighter skin shades.
Fits easily into footwear.
Breathable fabric for maximum comfort.
PRODUCT GOALS.
For simple compressive support and comfort.
Comfortable all-day wear.
For slip-on application over swollen ankles.
SIZE CHART & FIT GUIDE
See images for full size table.